Yesterday was a red letter day for authors' birthdays, and I must go back and pay homage to at least some of them. We begin with Henry Clifford Darby (1909-1992), a Welsh geographer of whom I had never heard. However, it turns out that he was the general editor of The Domesday Geography of England–in SEVEN volumes. I can't imagine how anyone could write or edit seven volumes about the geography of such a puny little island, but since our subject was knighted in 1988, I suppose he did a good job of noting every rock and rill on the whole island. Happy Birthday to Sir Darby!
Much more significantly, Charles Dickens was also born on February 7, 1812. I found this Charles Dickens page–lots of information and lots of links. My favorite Dickens novel is probably David Copperfield( "Annual income twenty pounds, annual expenditure nineteen nineteen and six, result happiness. Annual income twenty pounds, annual expenditure twenty pounds ought and six, result misery.") , but I'm also rather fond of A Tale of Two Cities (" It is a far, far better thing that I do, than I have ever done; it is a far, far better rest that I go to, than I have ever known."). Oliver Twist ( "Oliver Twist has asked for more!") is a great story, and I will always remember reading Great Expectations (" I never had one hour's happiness in her society, and yet my mind all round the four-and-twenty hours was harping on the happiness of having her with me unto death.") aloud as a family when my oldest were only ten or twelve years old. Poor deluded Pip! I must admit I haven't read any other Dickens novels, only A Christmas Carol, but I think I'l add one to my reading list. A yearly dose of Dickens couldn't hurt anyone and might very well do me a lot of good.
Sir Thomas More was also born on February 7, 1478. I must admit to having mixed feelings about . If I listen to Josephine Tey, I will conclude that More was an abominable liar of a historian, but the movie A Man for all Seasons presents him in a much more positive light, and he was canonized. Maybe I should read Utopia and form my own opinion.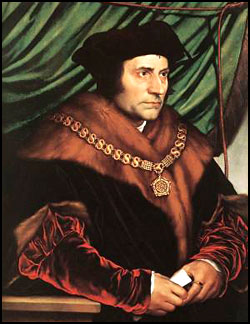 More was beheaded by Henry VIII because he refused to sign the oath that approved of Henry's divorce from Catherine of Aragon and his break with Rome. His last words on the scaffold were: "The King's good servant, but God's first."
February 7 also gave us Sinclair Lewis in 1885. I remember reading Babbitt in high school. According to the Sinclair Lewis Society website, Lewis was the first American to win the Nobel Prize for Literature. According to some other material I read, he was also a first-class pain in the neck who managed to alienate all his friends, divorced two wives in order to be with younger women, eventually had to pay secretaries to play chess with him in his last days and died of the effects of advanced alcoholism. His books attacked and made fun of small town residents, Midwestern businessmen, and crooked hypocritical preachers, amnong others. I did find this quote from Babbitt, and I'm afraid that it does describe the reason some people go to church: "The content of his theology was that there was a supreme being who had tried to make us perfect, but presumably had failed; that if one was a Good Man he would go to a place called Heaven … Upon this theology he rarely pondered. The kernal of his practical religion was that it was respectable, and beneficial to one's business, to be seen going to services; that the church kept the Worst Elements from being still worse; and that the pastor's sermons, however dull they might seem at the time of taking, yet had a voodooistic power which 'did a fellow good — kept him in touch with higher things.'" Ch. 16-III, p. 170.


Last but not least, February 7 is also the birthday of Laura Ingalls Wilder (1867-1957). I love the Little House books, especially to read aloud to little girls. I think we might try reading all of them next year. Isn't this a great old book jacket?