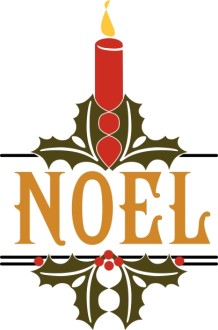 Lyrics: Unknown, of Cornish origin, 1400's(?).
Music: Traditional English Melody from W. Sandy's Christmas Carols, 1833.
Theme: Rejoice greatly, O Daughter of Zion!
Shout, Daughter of Jerusalem!
See, your King comes to you,
righteous and having salvation,
gentle and riding on a donkey,
on a colt, the foal of a donkey.
Zechariah 9:9
In the 1956 Baptist Hymnal, the one I grew up with, the section of Christmas carols begins on page 63 with The First Noel. When I was a girl , The First Noel was my favorite Christmas carol. I liked the word "noel" (not "nowell"). I liked the picture of the shepherds and the wise men looking up and following the same Christmas star. I liked the song of praise for God's creation and his redemption of mankind that made up the final verse.
Kenneth W. Osbeck: The repetition of the joyous "noel" in the refrain is equivalent to our singing out "happy birthday" to someone.
Ace Collins, Stories Behind the Best-Loved Songs of Christmas: "In England, The First Noel was sung each year by many peasants as they lit the Yule log. THerefore, this became the song that started the entire Christmas season. Especially for children, this carol meant the beginning of the most wonderful time of the year. Down through the ages the tradition of the Yule log arried with it the music of this folk carol. Though its words and music were not written down, The First Noel survived."
The first Noel the angels did say
Was to certain poor shepherds in fields as they lay;
In fields where they lay, keeping their sheep,
On a cold winter's night that was so deep:
Refrain:
Noel, Noel, Noel, Noel,
Born is the King of Israel.
They lookèd up and saw a star,
Shining in the east, beyond them far:
And to the earth it gave great light,
And so it continued both day and night:
And by the light of that same star,
Three Wise Men came from country far;
To seek for a King was their intent,
And to follow the star whersoever it went:
This star drew nigh to the north-west;
O'er Bethlehem it took its rest;
And there it did both stop and stay
Right over the place where Jesus lay:
Then entered in those Wise Men three,
Fell reverently upon their knee,
And offered there in his presence,
Their gold and myrrh and frankincense:
Then let us all with one accord
Sing praises to our heavenly Lord
That hath made heaven and earth of nought,
And with his blood mankind hath bought.