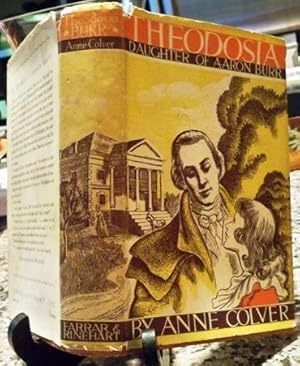 My daughters have become engrossed in listening to the soundtrack from the Broadway musical, Hamilton, and therefore I have listened to bits and pieces of it quite a few times over the past couple of weeks. (Warning: there's some fairly foul language in the lyrics to the musical, as well as some lurid gossip about the main characters. On the other hand, some of the lyrics are quite funny and witty.) As one thing leads to another, I noticed this book on the shelves of my library and decided to read it. Theodosia Burr Alston was the only (legitimate)* daughter of Aaron Burr, who figures prominently in the life and, of course, death of Alexander Hamilton.
Anne Colver wrote this book for children or young adults, and it was published in 1941. The content is largely pro-Burr, although various characters can't help speculating that Burr may have lost at least some of his reason and judgment after the duel with Hamilton. Aside from murdering Hamilton, Burr does do other fantastical and ill-judged things: in particular he becomes involved in a plot to invade Mexico and either to deliver it to the United States or to set up a rival empire with Aaron Burr as emperor.
We see Aaron Burr in the book from the point of view of the adoring Theodosia. Her love never fails. She always believes in her father, always expects the best of him, always stands her ground in defending him. However, Theodora's husband, Joseph Alston, makes a telling statement about his father-in-law, which becomes the summary judgment of this take on Aaron Burr: "It's hard to pity a man who can never admit he's been mistaken. Your father has so much to make him a great man, Theo. He has brilliance and ambition and energy. And magnificent courage. But he has more pride than any man is entitled to in this world."
And yet, Theodosia, and the readers of this lightly fictionalized biography of Theodosia Burr Alston are impelled to pity Theodosia and her infamous father by the end of the book. He almost became president, but he was also thwarted and insulted at every turn by Alexander Hamilton and his political allies. Burr lost his wife (also named Theodosia) during Washington's presidency. He endured Hamilton's calumnies for many years without reply. Then, came the duel, which Burr initiated, and the people of New York were so incensed at Burr that he felt he had to leave the country. And he owed so many debts that he fled with hardly any money to France where he lived in near-poverty. Then, after the Southwestern Empire debacle, Theodosia's only child, a son named for his grandfather, died of a fever. And in the final tragedy of the book, Theodosia set out from Charleston to travel by ship to New York to visit her aging and still beloved father, but the ship she was on never arrived. Lost at sea.
I don't really know what to think about Aaron Burr or his daughter. Anya Seton wrote a novel, My Theodosia, also published in 1941, which apparently paints a much different picture of Burr and his daughter. I haven't read Seton's novel, but according to Wikipedia Seton portrays a traitorous and hugely ambitious Aaron Burr and again, an adoring and manipulable Theodosia. Burr offers his daughter the opportunity to become Princess of the Western American Empire, and young Theodosia has a brief romance with Meriwether Lewis, thwarted by her protective father. I prefer the Colver version of Theodosia and her father, but I'm not at all sure what is actually accurate or true.
And so the Burrs remain an enigma to some extent, but fascinating nevertheless.
*I went on a bit of a rabbit trail after reading the Wikipedia article about Aaron Burr, which stated that he had two illegitimate children with his East Indian servant, Mary Emmons. These two children, John (Jean) Pierre Burr and Louisa Charlotte Burr, grew up to become influential members of the free black community in Philadelphia, and Burr's grandson, Frank J. Webb, wrote the second African American novel ever to be published. What would Jonathan Edwards, the Puritan preacher and Aaron's Burr's grandfather, have thought of his illustrious, infamous grandson and his progeny?